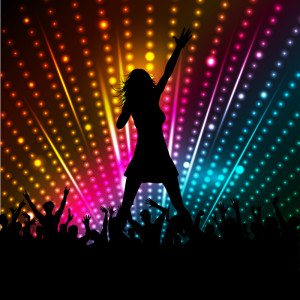 As a society we worship pop stars, and in some ways they're our new religion. All of us, adults and kids alike, willingly hand over massive amounts of our hard-earned money to see them perform in person, to buy their CD's and download their songs from iTunes, to wear t-shirts bearing their images, to have their music featured as ringtones on our smart phones, to read about their personal lives in magazines and unauthorized biographies, and to buy the products they endorse. We choose which awards shows, concert events and TV reality series to watch depending on which of our favorite pop stars are participating. We support the careers of paparazzi by devouring every available image and morsel of information about our favorite stars, and we carry their music with us on our portable music players of choice, 24/7, everywhere we go, to serve as personal soundtracks for our lives.  And, we dream of being mega-rich and mega-famous, just like them.
However, although the obsession with pop stars is a now a global phenomenon, and pop stars' images and music are seen and heard everywhere, 24/7, most people have no idea that popstars don't orbit their universes alone.   It does, in fact, take a "galaxy" of talented behind-the-scenes music professionals to create, build, support and maintain a popstar's appeal, popularity and career.
So who are the people who inhabit the galaxy that revolves around a popstar?   They're the writers of the songs that the popstar sings, the publishers who administer the popstar's music, the label execs who release and market the popstar's albums, the promoters who book the popstar's tours, the attorneys who negotiate the popstar's business deals, the music supervisors who place the popstar's music in TV and film projects, the rights specialists who license the popstar's music, the publicists and managers who sell the popstar's talents and image, the vocal coaches who teach the popstar to sing like a popstar, the producers and engineers who make the popstar sound good, and everyone else who works as part of the expansive team that keeps a popstar at the top of the charts and on the covers of magazines.
The lyric to the song "Wind Beneath My Wings" comes to mind at this point, but we'll refrain from sharing it here. You get the point, and you probably already know the lyric, anyway.  So, to get the party started, let's give credit where credit is due…."Wind Beneath My Wings" was written by Jeff Silbar and Larry Henley, and although it was previously recorded and released by other major artists in the early 1980′s, it was Bette Midler's 1988 Grammy-winning recording, featured in the film "Beaches", that catapulted the song to mega-hit status.
Welcome to the galaxy.
[Note: In addition to being based on our own first-hand interviews and attendance at the events discussed, some of the information and photos on this website have been collected from various other reference sources, including ASCAP.com, BMI.com and Wikipedia.org.  Courtesy credits for photos are provided where known.  Also, the opinions expressed on this website are solely those of the Popstar Galaxy team, based on our own personal experiences, preferences and perceptions. All readers of this website are welcome to agree or disagree, and to voice their own opinions in the comments section. However, we reserve the right to remove any comments that we find  inappropriate, overly negative, hostile, mean-spirited or of any other questionable nature.  
© 2014 Popstar Galaxy.  All original content on this website may be reprinted or used only by permission of Popstar Galaxy.  All rights reserved.