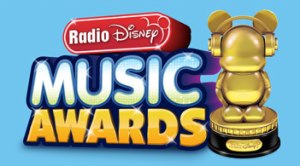 June 20, 2014
A couple of months ago we once again took our 7-year-old to the live Radio Disney Music Awards show at the Nokia Theater. It was a great time and we had a blast dancing, singing and screaming our excitement at seeing all of the famous presenters and performers live and in person.
As expected, there was the usual celebration of the pop stars and their individual successes, but we heard no mention at all of the important contributions of the behind-the-scenes music people who helped create the songs and recordings that brought the artists their RDMA nominations and wins. So, in the interest of giving credit where credit is due, here's a quick look at some of the artists who won an "Ardy" award this year and the songs and music teams (aka "the Galaxy") that made it happen for them.
They're The One – Best Music Group
UK boy band One Direction (1D) won the Ardy for this one. Their most successful song to date is still "What Makes You Beautiful", from their 2011 debut album "Up All Night".
Song Title: "What Makes You Beautiful"
Performer: One Direction (1D)
Songwriters: Rami Yacoub, Carl Falk & Savan Kotecha
Producers: Rami Yacoub & Carl Falk
Music Publishers: Chrysalis Music (BMG), EMI Music, Kobalt Songs
Music Label: Syco Records/Columbia Records
The Bestest – Song of the Year
Song title: "Come & Get it"
Performer: Selena Gomez
Songwriters: Ester Dean, Mikkel Eriksen & Tor Hermansen
Producers: Stargate (Eriksen & Hermansen)
Music Publishers: EMI Music, Dat Damn Dean Music, Songs of Universal
Music Label: Hollywood Records (Disney)
Selena also won an Ardy in the Best Song To Dance To category with the song "Birthday".  "Come and Get It" is from Selena's 2013 solo debut album "Stars Dance", her first album without The Scene (aka Joey Clement, Greg Garman, Dane Forrest and Drew Taubenfeld).
The Freshest – Best New Artist
The winner of this Ardy was 17-year-old Los Angeles native Becky G (Rebecca "Becky" Gomez), who also performed live on the show.  She's a favorite at our house and we crown her the new princess of pop stardom.
Song title: "Can't Get Enough"
Performer: Becky G featuring Pitbull
Songwriters: Becky G, Lukasz Gottwald (aka Dr. Luke), Niles Holowell-Dhar, Max Martin, Armando Perez (aka Pitbull), Tzvetin Todorov, Gregor Van Offeren, Urales Vargas & Henry Russell
Producer: Dr. Luke
Music Publishers: Belmondo Publishing, Indie Pop Music, Kasz Money Publishing, MXM Music AB, Oneirology Publishing, Prescription Songs, Sony/ATV Tunes, Kobalt Songs
Music Label: Dr. Luke's label Kemosabe Records (RCA/Sony)
Hit The Road – Favorite Roadtrip Song
Song Title: "Made In The USA"
Performer: Demi Lovato
Songwriters: Demi Lovato, Jonas Jeberg, Jason Evigan, Corey Gibson & Blair Perkins
Producer: Jonas Jebergh
Music Publishers: BMG Platinum Songs, Demi Lovato Publishing, Blair Perkins Publishing (Disney), Seven Peaks Music (Disney), Bad Robot (BMG), Sony ATV Songs
Music Label: Hollywood Records (Disney)
Demi, who also took home an Ardy in the She's The One – Best Female Artist category, of course also recorded the huge hit "Let it Go" last year for the end titles of the Disney film "Frozen".  Also, a couple of Sundays ago we saw Demi perform live on a float on Santa Monica Boulevard, as Grand Marshall of the annual West Hollywood Gay Pride parade.  She performed her new song "Really Don't Care", and she sounded amazing.  The large crowd went crazy when she passed by.   At the end of the song, she spoke to the small crowd of fans surrounding her float and said she hoped we liked the performance, that it was an honor to participate in the parade, and that the cameras accompanying her were recording footage for the new music video that was being made to go with the song (to be released on June 26).  Very cool, Demi, and thank you for being such a positive role model for my 7-year-old and her friend, who were both there with me to see you perform live.   They are big fans of yours, and they look up to you.  As a mom, I totally approve.  You rock!
You've Got Swag! – Artist with the Best Style
In addition to starring in the Disney TV show Shake It Up and competing on Dancing With The Stars, in 2013 Zendaya Coleman also released the hit song "Replay". This song, as well as Z's dancing in the song's video, display a whole new level of sophistication for this ultra-talented pop star.
Song title: "Replay"
Performer: Zendaya
Songwriters: Zendaya Coleman, Tiffany Fred, Mick Schultz & Paul Shelton
Producers: Mick Schultz
Music Publishers: Almo/Rondor/Irving Music (Universal), TFred Publishing, Underdog West Songs, Mick Schultz Publishing, Seven Summits Music (Disney), Z Swagg Music (Disney)
Music Label: Hollywood Records (Disney)
Radio Disney Chart Topper Award
Ariana Grande won this one in recognition of her multi-song success and radio play longevity.  She performed this new hit song live at the show, and what a hit it's proving to be!
Song title: "Problem"
Performer: Ariana Grande featuring Iggy Azalea
Songwriters: Ariana Grande, Savan Kotecha, Max Martin, Ilya & Iggy Azalea
Producers: Max Martin, Shellback (Karl Schuster) & Ilya
Music Publishers: Warner/Chappel, Wolf Cousins,
Music Label: Republic (Universal)
Radio Disney Showstopper Award
One of our favorite bands, R5, grabbed the Ardy in this category. They also performed live at the show, and Ross, Riker, Rocky, Rydel and Ellington had the place jumping with their rockin' performance.
Song title: "(I Can't) Forget About You"
Performer: R5
Songwriters: R5 (Ross Lynch, Riker Lynch, Rocky Lynch, Rydel Lynch, Ellington Ratliff), Andrew Goldstein, Emanuel Kiriakou, Evan Bogart & Lindy Robbins
Music Publishers: Seven Peaks Music (Disney), Hey Kiddo Music, Music Is Poetry Publishing, Never Been Kissed Music, Riker One Music, Rock Loud Music, Roditis Music, Kobalt Music, Fueled By Music, Here's Lookin' At You Kidd Music, Sony/ATV Songs, Stays Friday, Warner/Chappell
Music Label: Hollywood Records (Disney)
XOXO – Best Crush Song
Song title: "Still Into You"
Performer: Paramore
Songwriters: Hayley Williams & Taylor York
Producers: Justin Meldal-Johnsen
Music Publishers: But Father I Just Want To Sing Music, Hunterboro Music, W B Music Corp., Warner/Chappell Music Inc. (ASCAP)
Music Label: Fueled by Ramen
Note: Hayley Williams is lead vocalist of Paramour and Taylor York is the band's guitarist.
My Jam – Best Song To Rock Out To With My BFF
Song title: "Me & My Girls"
Performer: Fifth Harmony
Songwriters: PJ Bianco, Ally Brooke, Julian Bunetta, Camila Cabello, Beau Dozier, Dinah Jane Hansen, Lauren Jauregui, Normani Kordei & John Ryan
Producers: PJ Bianco, Julian Bunetta, Dozier & KnocDown
Music Publishers: BMG Platinum Songs US, Bob Erotik Music, Fifth Harmony Publishing, Holy Cannoli Music (Songs of Universal), Like Father Like Son Music, Music of Big Deal, The Family Songbook, Villa Bianco Songs (BMI), and possible additional ASCAP publishers
Music Label: Epic Records and Syco Music (the latter owned by TV talent show contest judge Simon Cowell)
Note: "X-Factor" group Fifth Harmony also won an Ardy this year for Breakout Artist of the Year. We were thrilled to be in the audience when they performed the song "Miss Movin On" at this year's RDMA's.
Musical Mashup – Best Musical Collaboration
Song title: "Everything Has Changed"
Performers: Taylor Swift featuring Ed Sheeran
Songwriters: Taylor Swift & Ed Sheeran
Producers: Butch Walker
Music Publishers: Sony/ATV Songs LLC, Sony/ATV Tree Publishing, Taylor Swift Music (BMI), and possible other ASCAP publishers
Music Labels: Big Machine & Republic (Universal Records)
Note: We recently visited the Musical Instrument Museum (MIM) in Scottsdale, Arizona. The Taylor Swift exhibit there is very cool. The exhibit features flat screen TV's playing  footage of Taylor performing, as well as some of her guitars and banjos and actual concert wardrobe.
So Happy – Best Song That Makes You Smile
Song Title: "Ooh La La"
Performer: Britney Spears
Songwriters: Lukasz Gottwald, Joshua Coleman, Henry Walter, Bonnie McKee, Jacob Kasher Hindlin, Lola Blanc & Fransisca Hall
Producers: Lukasz Gottwald (aka "Dr. Luke"), Ammo, Cirkut & Emily Wright
Music Publishers: Bonnie McKee Music (Songs of Kobalt), Columbia Boulevard Music Inc. (Sony/ATV Music), Songs of Pulse Recording (Downtown Music), Where Da Kasz At (BMI) / Columbia Avenue Music Inc., EMI April Music Inc., J Kasher Publishing, Kasz Money Publishing, Kevinthecity Publishing, Oneirology Publishing, Prescription Songs, Sony/ATV Tunes LLC, Whatabout Fran (ASCAP)
Music Labels: Kemosabe Kids (Sony Music) & RCA Records
Stuck In Our Heads – Catchiest New Song
Song title: "The Fox (What Does The Fox Say)"
Performer: Ylvis
Songwriters: Bard Ylvisaker, Vegard Ylvisaker, Christian Lochstoer, Tor Erik Hermansen, Mikkel S. Eriksen & Nicholas Boundy
Producers: Stargate & M4SONIC
Music Publishers: Stellar Songs Ltd., EMI Music Publishing Ltd. (ASCAP)
Music Labels: Concorde TV, Parlophone (Warner Records) & EMI Norway
Note: We loved the dance number based on this song on last season's DANCING WITH THE STARS TV show.
One additional note of interest: Two of the above songs, Becky G's "Can't Get Enough" and Ariana Grande's "Problem", were co-written by prolific producer/songwriter Max Martin (aka Martin Sandberg), a frequent Dr. Luke collaborator who has also co-written mega successful songs for Katy Perry ("California Gurls", "Roar", "I Kissed A Girl", "Teenage Dream", "The One That Got Away"), Taylor Swift ("I Knew You Were Trouble", "We Are Never Ever Getting Back Together"), P!nk ("Raise Your Glass", "So What"), Taio Cruz ("Dynamite"), Britney Spears ("Baby One More Time", "Oops I Did It Again"), Justin Bieber ("Beauty and A Beat"), Kelly Clarkson ("Since U Been Gone"), Celine Dion ("That's The Way It is") and the Backstreet Boys ("As Long As You Love Me"), to name just a few. Every pop star should want Max Martin to be part of their galaxy!
© 2014 Popstar Galaxy. Original content on this website may not be reprinted or used without the express permission of Popstar Galaxy. All rights reserved.