The Murder She Wrote
August 8, 2014
This is the first post in our new ARTISTS WE LIKE series. First up is the Sacramento, California-based band The Murder She Wrote.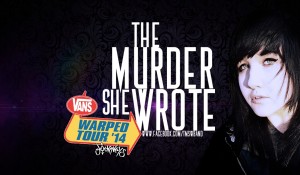 The Murder She Wrote describes themselves as a female-fronted post-hardcore band with Victorian influences and lyrics about the personal struggles we all face. 
 
The band was formed by Chey Carver and Richie Gomes, who started writing and producing music together in their garage. Experienced, punk-rock driven rhythm guitarist Bailey Zindel joined a few months later, and most recently bassist Jake Ryan and drummer Will Molnar came on board to complete the band. The band's self-funded debut EP "Poetry" is currently in the making, and their first single, "Overflow", was released in April 2014.
We've had the privilege of hearing early recorded versions of some of the songs on their upcoming EP, as well as a live unplugged acoustic performance by Chey and Richie of some of the songs.  These additional songs are every bit as poetic, haunting and oddly compelling as "Overflow".  Chey is a true poet, and her lyrics are an intriguing blend of vivid imagery, melancholy reflection and raw emotion.  Richie is a considerably talented, imaginative and visionary artist, and his songwriting, producing and guitar playing skills are impressive.   The collaboration of this powerhouse duo is, to quote the band's official online bio, a meeting of "meaningful, relatable lyrics and hardcore musical style", resulting in a "brutal yet beautiful musical experience that's hard to put on pause."  We couldn't agree more.
We also can't wait to see what this band does next, and where they'll go from here as they continue to build their fan base.  Check out the "Overflow" video below, and stand by for more good things from The Murder She Wrote.
The Murder She Wrote is:
Chey Carver – Vocals
Richie Gomes – Lead guitar/Screams
Bailey Zindel – Rhythm guitar
Jake Ryan – Bass guitar
Will Molnar – Drums
You can follow The Murder She Wrote at:  http://www.facebook.com/tmswband
You can also vote for the band on the Van's Warped Tour/Battle of the Bands website, found here:  http://warped.battleofthebands.com/u/tmswband
© 2014 Popstar Galaxy. Original content on this website may not be reprinted or used without the express permission of Popstar Galaxy. All rights reserved.